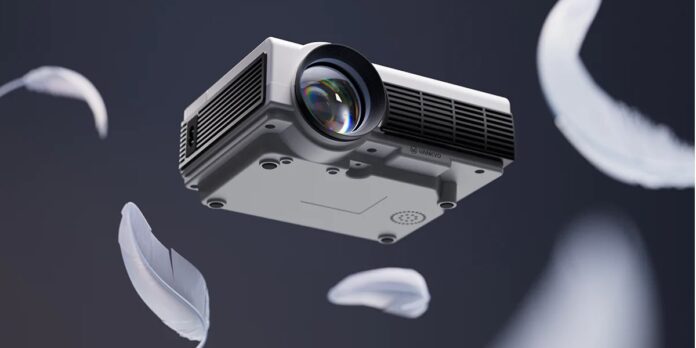 In case you love sewing, you must have definitely heard about the concept of paperless sewing. This method uses image projections of patterns to sew instead of paper piece patterns. You do not have to follow any of the conventional steps involving printing, taping, cutting and storing paper pattern pieces. It is a relatively easier and more accurate process and can be used by both professionals and amateurs alike. Read in to know more about using Vankyo sewing projectors and what you need to keep in mind while setting them up in your workplace.
Types Of Projectors For Sewing
Check out the different kinds of projectors that can be used for working on the process of paperless sewing.
1. Ultra Short Throw Projector
Since you do not need a projector which is able to project on large screens for sewing purposes, this kind of a projector is a good choice for you. They work well for short distances and offer good picture quality. You can get accurate pattern projections at short distances using this kind of projectors, and it is an efficient choice.
2. Mini Projector
These projectors are very small and portable and a good choice for paperless sewing procedure. They can be set up easily, and adjustments can be made to change the image quality and size as and when required.
Points Important During Set Up
Keep the following points in mind while setting up a projector.
1. Site Of Projector
Your projector should be set up in such a space and location such that it is easy to work under it. There should be enough space under the projector to set up your work station.
2. Variation In Lens Size
Projectors have lenses of various sizes. So, keep in mind to adjust it accordingly, otherwise your projected pattern image will be too large or too small. This would affect the final product and the final product would not meet your expectations.
3. Placement Of Work Mat
Always make sure to set up your work mat directly under the projector. It will give a direct image, without any chances of parallax errors. This would affect the accuracy of work and there are chances of this damaging the finish.
Advantages Of A Mini Projector
Here are the main advantages of a mini projector.
1. Ceiling Installation For Space Saving
These kinds of projectors can be installed directly on the ceiling to save space. Many mini projectors even do not need a bracket to be installed for setting them up. They save a lot of space and also give your room a stylish look.
2. Mounting At Perfect Height
Mini projectors can be mounted at the perfect height for working. Even if they are installed on the ceiling, they are able to adjust image size and focus of projected image to make work easier for people who are sewing.
3. Easy To Work For Elderly Seamstresses
Elderly seamstresses often find it difficult to change settings and adjust projectors while working. If they are willing to adopt the paperless sewing concept, they can use mini projectors since they are easy to control and work with.
Conclusion
If you are new to paperless sewing, or just want to try it out as a hobby, a projector is the first thing you need to get. You can check out the wide range of projectors at Vankyo for sewing, you are sure to like them. There are a lot of projectors, and you will surely find one that suits your needs.