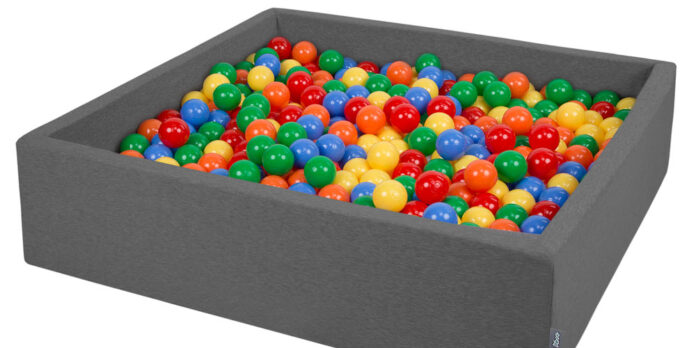 A foam ball pit is a type of children's toy typically consisting of large colorful foam balls. The balls are made of soft materials such as polyethylene, and the pool's design is safe for children to play in.
You can find the pit in various settings, including schools, homes, daycare centers, and play areas at malls. They provide children with a place to play and have fun.
If you are looking for a safe and fun way for children to have an excellent experience in their playing, a ball pit with super soft fabric offers a great playing environment that will benefit your child.
When choosing a ball pit, you have to consider some important things. The following are some of the factors:
Factors to Consider While Choosing A Foam Ball Pit
Before selecting a ball pit, there are a few factors you need to put into consideration.
1. Size
Size is one of the essential things to consider before buying a ball pit. Ensure you choose a ball pit that will sustain your child's weight.
2. Shape
Ball pits come in various shapes and styles, depending on what you need or what will fit your needs.
3. Ball pit shapes
There are many shapes to pick from withing the foam ball pit bracket. Depending on your kind preference, you have the liberty to choose any shape you like most.
4. Material of the Kit
You should ensure you select a ball pit that is safe for children. Pick a pit that will enhance the safety of your child.
5. The age and Height of the Children
What is the best age for a ball pit? Ball pits are suitable for babies that are six months and above. It is essential to supervise your child during play.
Benefits of Foam Ball Pit for Families
1. Health Benefits
Rolling and throwing the balls allow children to strengthen their muscles, increasing hand-visual coordination and calming reactive kids by engaging them in enjoyable ball activities that are fun for kids and developing their motor skills.
2. The Best Therapy for Your Kids
The ball pit is not only for having fun; it is good therapy for your kids. The soft, colorful foam balls offer a massage to the kid's body, providing sensory comfort that allows the body to relax. The colorful balls are therapeutic to the child's eyes, making them less anxious.
3. A Perfect Gift for Your Child
A ball pit is one of the best gifts you can take to your toddler or kids during their birthday party, baby shower, holiday, Christmas gift, or any other special occasion. Ball pits are fun and create an enjoyable environment for you and your child.
4. Decoration
Despite Ball pits being a good gift, their balls are colorful and beautiful and can be used as decorations for your kid's room, playing ground, and living room.
5. Soft fabric Foam Safe for Your Child
The pit has a stylish design and comes from a soft fabric foam that gives your child a safe playing environment that makes them have a stable and the best experience during their play.
Conclusion
An excellent way to encourage physical activities and imagination for your child is by bringing them a ball pit that will positively influence their physical growth and mental health.