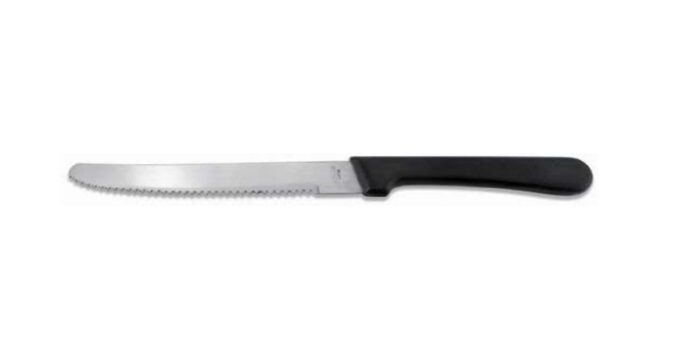 Here's the thing, to understand what makes a good steak knife, first, you must understand what makes a bad one.
So, let's start with what makes a bad steak knife;
Form Rust Spots – they are the last things you could want to be displayed at a family dinner. Therefore, a bad steak knife is one that will form rust spots in your meat.
It will cut poorly – one thing is for sure, with bad steak knives, you'll be clenching your teeth in full frustration when you shred and see your steak, but all in vain. The kind of cuts that you'll have you'll surely not like them at all.
Blunt Quickly – a bad steak knife is one that after extended use it blunts, meaning you'll find yourself in the store again looking for another purchase. It's arguably the last thing that any buyer would want to experience.
Heavy and Bulky – comfort is everything when it comes to working with steak knives. Unfortunately, you'll find that your hand can turn white just from having to grip poorly made steak knives.
Simply put, bad steak knives aren't classy cutlery. It's easier to compare a bad set of steak knives to that invisible enemy, and they'll make your kitchen output unenjoyable.
Fortunately, a good steak knife is an entirely different ballpark.
So what makes a good steak knife? Here are some of the things that qualify a steak knife as the best;
Sharp blade – you need your steak knife to have a sharp blade to help you cut through tough cuts with ease. A good steak knife is one that has a sharp blade for all your purposes to be made easier.
Close Handle Fit – the best steak knife is the one that has a well-fitted handle and doesn't have any gaps between the blade and the beginning of the handle. That way, it helps you to have a comfortable grip throughout your cooking.
Full Tang – your safety is also a consideration that you have to make, and having a steak knife with a full tang helps to increase your safety as well as its longevity. Besides, you don't want to return to the market sooner than you had planned.
Sturdy Handle Material – you can always opt to have natural wood or plastic steak knife, but whichever you decide to have, a good knife is one that features a handle that's not only comfortable but also smooth and durable. Therefore, ensure that you check the handle material before making a purchase. Remember your success in that dinner depends on the comfort of the handle.
Balanced – an easy-to-use steak knife can be the difference to the kind of output you want. Therefore, a good knife is one that's well balanced to ensure that you use it easily and seamlessly.
Good-quality Stainless Steel – they say that the better the steel, the better the blade will cut, and the longer the knife will retain the edge.
Therefore, it's very easy to select the best steak knife for your home for an excellent time in the kitchen.