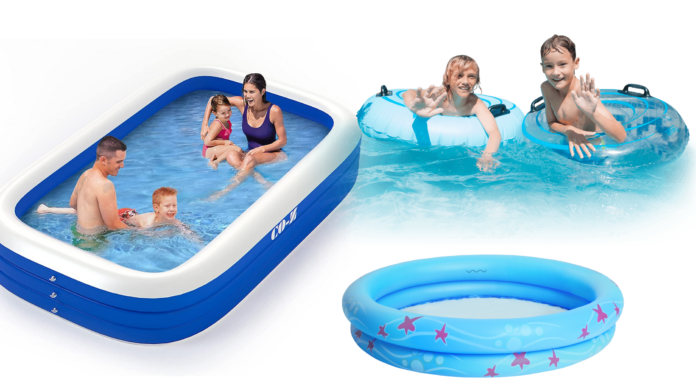 With the arrival of summer, people try to do outdoor activities that allow them to enjoy the sun but at the same time keep cool. Those who have their own backyard or garden, decide to buy an inflatable pool as an option to have fun at home.
Besides the fact that they are very useful for cooling off during the summer, having an inflatable pool at home is a very fun plan, not only for the kids, but for the whole family.
Since there are many options, it is always important to consider certain tips for buying an inflatable pool.
What is an inflatable pool?
As its name suggests, it is a pool that is inflated and then filled with water. It is a portable pool that can be foldable or disassembled, made of synthetic materials, especially vinyl, or what is known as PVC.
PVC, being made of plastic resin, is very resistant to withstand high levels of air inflation and the weight of the water. This is a much more versatile option than a traditional permanent pool, as it can be installed and removed as often as needed and is easy to store at the end of the summer season.
The versatility of an inflatable pool is also due to the fact that they come in different sizes, as you can use one for a baby to sit in, to one large enough for entire families.
In addition, many of them are useful for incorporating other accessories, such as umbrellas, inflatable slides, a basketball hoop and many more.
Factors to consider buying an inflatable pool
Indeed, an inflatable pool is easy to assemble and disassemble, as well as to move and store. However, there are several details to take into account, so that it can not only be used easily, but also last as long as possible.
Size and capacity
These are the most important details to consider before buying an inflatable pool. The capacity and size is what will let you know where you will be able to install it. As we have said before, there are inflatable pools for babies and also for entire pools, so it is important to take into account what space you have available.
Similarly, it is important to note that the larger the pool, the more water will be needed to fill it, so it is key to know if you really have the amount of liters required.
Shapes and designs
Undoubtedly the most popular inflatable pool format is the round one. The reason for this is because when they have this shape they take up less space and are the most common to find. However, there are also square and rectangular inflatable pools on the market that can even be placed in a corner of the patio or garden.
Accessories
If you have a really large space, it is then possible to consider many accessories that can be incorporated into inflatable pools to enhance the experience and fun.
In children's pools, it is very common for their users to add accessories such as slides, a mini playground and even inflatable roofs as well. Adults can also add details and accessories such as basketball hoops, umbrellas, lifeguards, among other elements.
It is always important to consider buying other important elements for the maintenance of the inflatable pool, such as the water purification filter, the protective cover, the filling pump, among many others that will make the pool work in the best way and keep it in the best conditions.